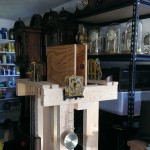 I can fix your clock and get your timepiece up and running for you. There are some clocks I work on and some clocks I do not work on. I have listed them below.
The condition  and the type of clock will depend on the extent of maintenance and how fast the clock can be repaired. Some clocks may just need a minor oiling to get them going and keeping time.
On the other hand, some clocks may be in such poor shape that they need to be completely disassembled , cleaned, and reassembled.
Basic Clock Maintenance
I can do the following procedures.
Oiling
Dissemble and clean
Minor case restoration
Mainspring replacement
Regulation and beat adjustment
Part replacement
Types of Clocks I can maintenance
The types of clocks I work on are listed below. This is a general list and may be subject to exceptions.
American, European, Chinese, Japanese and most other clock manufacturers
400 Day Anniversary clock
Black, Tambour ("Napoleon Hat"), Figure, Statue, Banjo and other Mantle clocks
Regulator, Box, Swinger, Vienna weight driven and other Wall clocks
Grandfather, Grandmother, and other  tall case clocks
Zaandam, Friesian, "Stoelklok", and other Dutch clocks
Clocks I do not Maintenance
While I may be able to maintenance the following clocks, I do not maintenance the following clocks for several reasons.
Fusee Clocks
Quartz Clocks
Tower Clocks
Atmos Clocks
Golden Hour